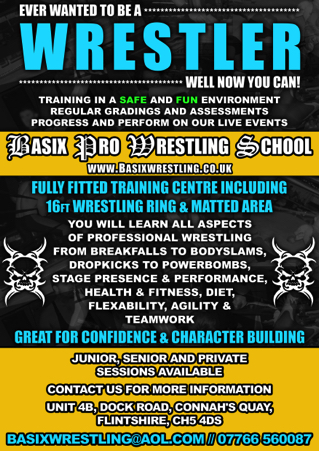 SHOW REELS - BOOKINGS NOW BEING TAKEN
BRITISH WRESTLING COUNCIL
Basix Wrestling is proudly linked to the British Wrestling Council.
The BWC have shown great support to both full time professional wrestlers and also to trainees.
The BWC uses a grading syllabus (ranging from white grade level one - to black grade level 8).
These gradings are designed to teach students all aspects of professional wrestling.
ACES HIGH TATTOO STUDIO
'Iron Man' Mike Roberts Approved!
Based at 80 Chester Road West, Shotton, CH5 1BZ,
Aces High is Deeside's longest running tattoo studio, established in 2004.
Click the Aces High Logo for more information!
BULL STRENGTH APPAREL
We would like to say a massive thank you to Bull Strength Apparel
for kindly adding Big Mike to their Ambassador sponsorship programme
for all future Powerlifting Competitions.
Click the Bull Strength Apparel Logo for more information!
DL FITNESS
Train Smart! Train Safe!
DL Fitness is a dedicated hard working gym that motivates all it's clients reach there goals no matter what!
They are a fully equipped gym with all kinds of protein, creatine and pre-work out drinks on sale, and boast a well equipped
strongman, squat and deadlift area.
All staff at DL Fitness are fully qualified and experienced personal trainers.
Click the DL Fitness Logo for more information!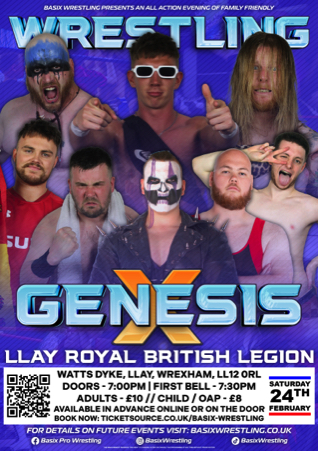 TICKETS ARE ON SALE FOR OUR EVENT AT THE LLAY ROYAL BRITISH LEGION ON 24TH FEBRUARY - VISIT THE "BUY TICKETS" PAGE TO BOOK!
North Wales, Wales, Welsh, North Wales Wrestling, Wales Wrestling, Welsh Wrestling, North Wales Professional Wrestling, Welsh Professional Wrestling, Wales Professional Wrestling, North Wales Pro Wrestling, Welsh Pro Wrestling, Wales Pro Wrestling, Professional Wrestling in North Wales, Professional Wrestling in Wales, Pro Wrestling in North Wales, Pro Wrestling in Wales, Wrestling in North Wales, Wrestling in Wales, Pro Wrestling Training in North Professional Wrestling Training in North Wales, Professional Wrestling Training in Wales, Wrestling Training in North Wales, Wrestling Training in Wales, North Wales Pro Wrestling Training, Wales Pro Wrestling Training, Welsh Pro Wrestling Training, North Wales Professional Wrestling Training, Wales Professional Wrestling Training, Welsh Professional Wrestling Training, North Wales Wrestling Training, Wales Wrestling Training, Welsh Wrestling Training, North Wales Pro Wrestling School, Wales Pro Wrestling School, Welsh Pro Wrestling School, North Wales Professional Wrestling School, Wales Professional Wrestling School, Welsh Professional Wrestling School