Basix Wrestling school is offering you the chance to learn the art of  Professional Wrestling.
Could you be the next wrestling superstar and follow in the footsteps of legends?
WE ARE NOW LOOKING FOR TRAINEES TO JOIN OUR SENIOR AND UNDER 16s PRO ROSTER FOR SHOWS TO BE CONFIRMED IN 2023
TRAINING SCHOOL INSTRUCTORS
Basix Wrestling has a fully operational and fully fitted out wrestling unit based at:
Unit 4B, Dock Road, Connah's Quay, Flintshire, CH5 4DS
This unit is where Basix wrestling teach all aspects of professional wrestling.
The unit is perfect for people who would like to learn to wrestle from beginners tfhrough to advanced and to gain grades and certificates in line with the British Wrestling Council grading syllabus.
Basix Professional Wrestling can also offer private training sessions to anyone wishing for this service.
For further details please
Email: basixwrestling@aol.com
Call: 07766 560087
Our trainers are Industry Professionals with 30 years
experience in International Wrestling and Theatre.
We are affiliated with the
British Wrestling Council
and our Syllabus reflects BWC grading.
Owner / Head Trainer
British Wrestling Council
Black Grade/Level 8 Instructor
Assistant Trainer
Health & Fitness, First Aid,
Beginners, Intermediate,
Advanced & Gradings
WHERE?
UNIT 4B
Dock Road, Connah's Quay, Flintshire, CH5 4DS
Assistant Trainer
Juniors, Beginners, Refereeing & Showmanship
Assistant Trainer
Health & Fitness, Nutrition,
First Aid
Beginners & Intermediate
Assistant Trainer
Health & Fitness, First Aid
& Beginners
WHAT WILL I LEARN?
Our training is based on standard British Professional Wrestling as televised on World Of Sport.
You will have the opportunity to learn:
Throws & Holds,
Mat Work & Submissions,
Break Falls & Pin Falls,
Rope Work & High Flying,
Safety & Feeding,
Crowd Interaction, Showing Out & Microphone Promo's,
Building and Dismantling of Wrestling Rings,
PLUS MUCH MUCH MORE
Training With 7 Time Mid-Heavyweight Champion
Marty Jones
Fitness Training
Vital for any up and coming wrestler!
WRESTLING RING TRAINING TIMES & SESSION DETAILS
Progress to perform on our Live Events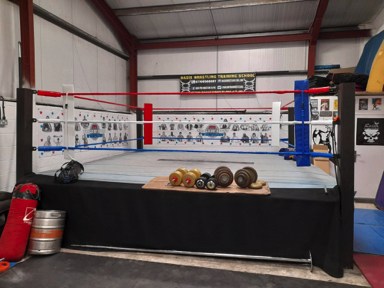 HOW MUCH DOES IT COST TO TRAIN?
(Cost per 2 hour session)
Juniors* (Aged 8 -15) - £8
*(Or 16+ and in full time education)
Seniors (Ages 16+) - £10
Private Tuition - £30 per hour/per person
SPECIAL GUEST SEMINARS HELD WITH
WORLD OF SPORT LEGENDS
7 Time World Mid-Heavyweight Champion and
5 Time British Light Heavyweight Champion
"Mr. Number 1" Marty Jones
&
10 Time World Lightweight Champion
"The Master of 1,000 Holds" Johnny Saint
WHEN?
MONDAYS
7:00pm - 9:00pm | Seniors Beginners
PLACE MUST BE BOOKED TO ATTEND
CONTACT MIKE - 07766 560087
TUESDAYS
5:30pm - 7:30pm | Juniors
7:45pm - 9:45pm | Seniors
THURSDAY
7:45pm - 9:45pm | Seniors
PRIVATE TUITION AVAILABLE
Promo Lessons
An important part of pro wrestling!
Assistant Trainer
Beginners