- - - - - - - - - - - - - - - - - - - - - - - - -
Are you looking to book us for an event, arrange a quote, or just need some more information?
Contact us today and Mike will be happy to discuss how we can help!
Tel No: 07766 560087
Email: basixwrestling@aol.com
Dont forget, you can also:
Find us on Facebook Here
Follow us on Twitter Here
Watch us on YouTube Here
- - - - - - - - - - - - - - - - - - - - - - - - -
Basix Pro Wrestling hold shows across the UK/Overseas and are available to hire for events.
Do you want a wrestling theme for your child's upcoming birthday or your wedding day?
Maybe you would like to include us in your entertainment programme or use us for a team building activity day for your company?
There's nothing more unique than a professional wrestling event designed just for you!
All of our shows are family fun filled events.
When you book Basix Pro Wrestling, we guarantee that you will get a highly professional wrestling company who; are a fully insured, professional both in and out of the ring, have excellent equipment and top quality costumes and last but not least, will provide you with some of the UKs most professional wrestlers around who understand the importance of putting on great family entertainment.
We have just completed numerous dates for Lyons Holidays, Park Resorts, Marine Holidays, Haulfryn, Partington's, Knightly's Leisure, Greenacres & Sunny Sands Holidays; along with many other private holiday parks and have received praise from every venue we have appeared at for the way in which we conducted ourselves both on and off the stage.
The shows were extremely well received by the resort teams/managers and we have even appeared on the resort questionnaires singling out the wrestling show as a highlight of their holiday.
Above are just a couple of ideas.
If you just want one match, no problem!
Want 30 wrestlers and an over the top rope rumble? No Problem!
Please submit your requirements and Basix Pro Wrestling will be pleased to design an event for you.
We use in house facilities to keep costs down, but can supply our own.
Prices do however include a referee, various sized wrestling rings, and of course, the wrestlers!
The minimum space needed for our travelling wrestling ring is
15ft x 15ft with at least 9ft of height.
Basix Pro Wrestling owns numerous wrestling rings of different sizes and can usually accommodate any venue!
We would require 1hr set up time plus a further 1hr dismantle time on top of show duration selected.
All Of Our Wrestlers Are DBS Checked and we have qualified first aid team members.
Basix Pro Wrestling Also have Full Public Liability Insurance Available On Request.
References can be obtained from any of the venues listed above or from our events page.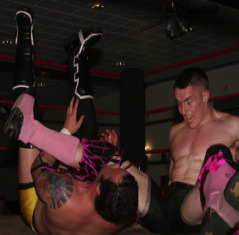 Brian Dixon
All Star Wrestling
"El Bandito" Orig Williams
Ffederasiwn Reslo Cymru
"Iron Man" Mike Roberts
Basix Wrestling
SHOW INFORMATION
You can choose the style of show:
The traditional British "World of Sport" style events, contested over 6 rounds with the winner requiring 2 falls, 2 submissions, a disqualification or a knockout.
This style of show is best suited to the 40+ age group who can remember the ITV commentary by Kent Walton and the T.V. wrestling stars such as 'Rollerball' Mark Rocco, Marty Jones, Dave 'Fit' Finlay, Johnny Saint, Steve Grey, Kendo Nagasaki, Big Daddy and of course Giant Haystacks.
This style of show is now becoming very popular again.
Alternatively we can provide the new American style wrestling, similar to the Sky WWE/TNA format, wrestled over a time limit, with the winner requiring 1 fall, 1 submission, a disqualification or a knockout.
This style of show is the favourite for the family and younger audience.
Below are a few examples of events, however Basix Pro Wrestling are happy to design any event needed for maximum effect!
Cabaret Style Show
Suitable for Holiday Parks/Social & Nightclubs, Hotels, Fetes and Galas.
Team of 4 Wrestlers and a Referee
Wrestlers Battle It Out Over 3 Thrilling Matches
Running Time: 60mins approx.
A Slightly Bigger Version of the Show
Team of 6 -10 Wrestlers and a Referee
Full Show Of Great Matches such as:
Singles Contests,
Tag Team Matches,
Comedy,
Blindfold Match,
Chain Match,
with An Over The Top Rope Battle Royal Finale
Running Time: 120mins approx.
Outdoor Events
Carnivals, Fun days & Festivals Why Not Feature Wrestling At Your Event?
Basix Pro Wrestling Make A Great Arena Attraction for Outdoor Events
All prices include meet and greet/photo opportunities with all wrestlers appearing on shows, poster signing, autographs opportunities etc.
Prices may increase due to distance and travelling expenses but can be negotiated.
WHO ARE WE?
Basix Pro Wrestling is one of the leading family run wrestling events companies based in the Wales/UK, which was originally formed in early 2006.
The company is fronted by "Iron Man" Mike Roberts. who has been a leading character in the wrestling industry for over 30yrs.
Trained by the late great "El Bandito" Orig Williams (Ffederasiwn Reslo Cymru) and Brian Dixon (All Star Wrestling Promotions), Mike has been involved in wrestling shows and events both as a performer and also behind the scenes all over the UK/Overseas.
Basix Pro Wrestling use only the best wrestlers that the UK has to offer mixed in with overseas wrestlers brought in on occasion.